Posted by Pipe Hawk Management on 23 June 2020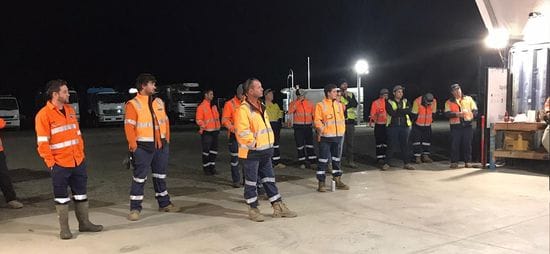 Hiring staff can be a real challenge for any business and the situation was exactly that at Pipe Hawk when we started recruiting in our own business in 2015. As the demand for our services started to grow and we quickly needed to find extra staff, we kept finding ourselves asking the same questions...
Are qualifications more important than experience?

Why did this person leave their last job?

Will this person fit into our existing team culture?

Can we trust this potential employee?

Will they be able to adapt and learn new skills?

Do they have leadership qualities to supervise other staff in the future?
Fast forward 5 years to 2020 and we have now grown our team to 20+ employees with teams operating in Queensland and Victoria. We have learnt some valuable recruitment lessons over the years but we now have a very clear direction of where the company is heading and what type of employees can help us get there.
Rather than write another blog focussing on a recent project we have been involved in, we have decided to step a little out of our comfort zone and share a little insight into the hiring qualities we look for when employing new team members. Our hope is that you will not only learn some new assessment considerations for hiring staff in your own business but hopefully it will paint a picture of what the Pipe Hawk team is like to work with if we are lucky enough to partner up with your own team on a future project.
In addition to experience, we focus heaviliy on the following 10 key personal qualities when hiring new staff:
1. Life Experiences
People have plenty of experiences outside of their working life that can benefit an employer. We often find that staff with outside interests such as travel, sport, hobbies etc. are a great indication that the person is going to be willing to work with others, get out of their comfort zone, and most importantly - learn new skills!
2. Empathy & Common Sense
If someone has concern for others and the ability to think about the consequences of their actions before doing, it will go a long way to achieving zero harm within a workplace. Whilst certain elements of job safety can be taught, such skills are of no use if that person does not already possess a sound level of common sense. We find that using a range of hypothetical questions/scenarios in an interview can go a long way to helping find the best candidate.
3. Emotional Intelligence
We tend to focus more on soft skills in interviews versus the traditional approach of reviewing experience, qualifications, and technical expertise, as those attributes can easily be cross-checked with their references post-interview. Instead, we like to find out why they want to work with us, how they feel they can help our team grow, and ultimately why they think we should give them a job. Asking such questions can help to identify the person's level of intelligence and determine whether they are genuinely serious about wanting to help our business.
4. The Right Personality
We believe that we can train anyone to do any job. Obviously, experience will help speed up the process, but our focus is always on finding a suitable candidate based on their personality first. Doing so will not only ensure that the person fits in with our existing culture, it will also prevent any disruptions/conflict occurring with other team members.
5. Ability To Innovate & Challenge The Norm
Pipe Hawk's entire business success has been based on our ability to provide clients with efficient and cost-effective solutions. Whilst technology plays a big part in this, we constantly encourage our team to be innovative in a way that delivers a positive impact to both the client and us. Furthermore, an employee should be willing to challenge the status quo and voice their ideas for the benefit of the company as a whole.
6. Potential For Creativity
We hire staff with the objective of keeping them long-term. Therefore, 'potential skills' can be just as important as 'existing skills' when selecting the right candidate. If the person displays primary indicators of potential such as the ability to deal with challenges, difficult feedback, or uncertain situations, they are likely to be a good fit. We also find that the more creative a team member is, the more influence they can have on other staff.
7. Fitting In
A candidate's experience is often less important to us than how well we think they will fit in with Pipe Hawk's culture. As soon as we were able to determine our own culture and values in the early days, assessing this quality became much easier. If the person is the right fit, we can easily provide the on-going training and support to help fill the experience gaps.
8. Be Willing To Learn
In an industry where technology is constantly evolving, we cannot afford to have staff who aren't willing to learn. When interviewing candidates, we will ask questions to determine if they are likely to possess discipline and determination, as both of these qualities are paramount to being able to make themselves better and contribute to the overall success of our business.
9. Leadership & Work Ethic
A leader and hard worker will always outperform someone who is simply a technical genius in our experience. We look for employees who are dedicated, smart and driven to succeed. Once we find candidates with these qualities, all we need to do is provide a platform for them to learn and become successful.
10. Motivation
We can offer all the training and support in the world, but we can't teach someone to be truly motivated to work for us. Therefore, we try to identify as quickly as possible what the primary motivation for the person wanting to join our team is. It could be the opportunity for them to grow, the appeal of joining an industry leader like Pipe Hawk, or perhaps they simply want to join a company to experience the fun and enjoyable work culture on offer. Regardless of the reason, an employee with motivation in general is a big tick in the box for us as long as we can realistically deliver what they are looking for.
---
We hope the above information has provided some useful insights into how we operate at Pipe Hawk, but more importantly - we hope you can take some tips away to implement within your own recruitment strategies.
To find out more about existing job opportuities at Pipe Hawk, click here to visit our careers page.